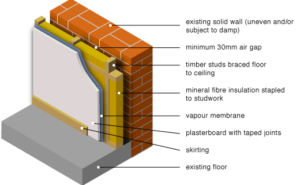 Drylining Insulation for Internal Walls
We Fit Drylining Warm-Boards For Internal Wall Insulation
We offer our clients the option of having their homes insulated internally. This is referred to as internal dry-lining. We fit dry-lining warm-boards around the perimeter walls of your property internally. This 92mm insulated plasterboard will retain heat in your home and will enable you to save up to 50 per cent of heating costs in your home. You can use dry-lining if the warmth is escaping through the walls of your home or you are thinking about renovating your house and the external walls needs to be insulated. At Complete Insulations we can fit these warm-boards. This process can take 1 to 7 days pending on the size of the house and is best suited to walls where no cavity is present.
Installing Drylining in Internal Walls
Roll back carpets and cover floor with plastic sheeting
Disconnect all rads & electrical fittings located on external walls
Carefully remove existing skirting boards
Remove existing drylining if present including window reveals
Remove existing window boards
Install 92mm insulated plaster board to main areas of walls, insuring that no gaps are present at the back of the board using mechanical fixings.
Install 38mm insulated plaster board to window reveals
Apply 3mm plaster skim coat finish to all Insulated plaster boards
Install new extended window boards
Reconnect all rads & electrical fittings located on external walls
Re-lnstall existing skirting board
Tidy up and leave ready for decoration.
Hollow Block Wall Insulation
This type of insulation is best suited to solid brick/block walls where no cavity is present. You may also receive grants of up to €2,400 if you are looking to dry-line your house or property.